Nature  Cabins/ Cottages
Rental of a detached, 2 persons cabin, gite, or chalet in the South of France.
Because of the structure of our grounds and to preserve the peace and quiet in the valley La Fraysinette is a place
for adults only
Should you want to rent a cabin in the months of April, May, June, 1-8 july, 15-22 july 5-12 aug. September, October, 2017 you have a choice between:
2 persons Cabin "El Sueno"

"El Sueno (The vision)" is a two persons cabin, close to our house, with upstairs a living/bedroom with wood burner and its own, south facing terrace. The kitchen, wc, and spacious bathroom are downstairs.
"El Sueno" costs € 275,- a week. mid june till mid september € 350,- a week.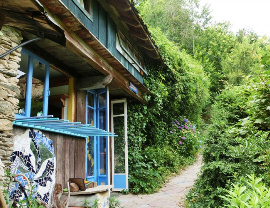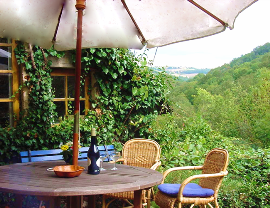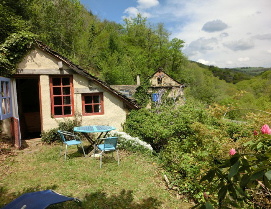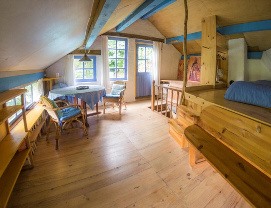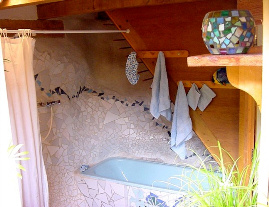 Chalet "Calina Manâna"

"The morning mist", a wooden chalet in an isolated, romantic spot close to the river. It has electricity, running water, 2 separate beds, or a double bed and a kitchen corner, shower and wc.

"Calina Manãna" costs € 275,- a week. mid june till mid september € 350,- a week.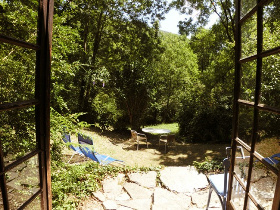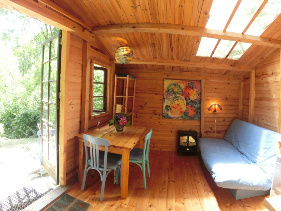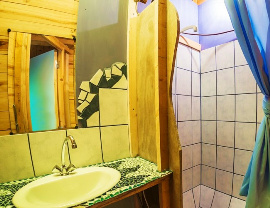 Nature Cabin "Media Luna" or "Celestial Giro"


"Half Moon" and "Celestial Bend" These are wooden nature cabins (3x4m), each on a spot with a view over the valley.
This is a sophisticated form of camping, (glamping), completely free in nature, but with electricity and running water.
Provided with a double bed or two separate beds, washbasin, table and chairs. On the terrace an outside shower (cold water) and two comfortable reclining chairs. (wc and a hot shower in El Capillo). There are no cooking facilities.
"Media Luna" or "Celestial Giro" cost 225,-€ a week. in July and August 275,-€ a week.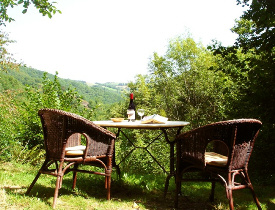 4 persons Gite "Casa Roca"
A detached 4 persons cabin, built half under a rock, with south facing little terraces and a view over the valley. Upstairs a room with kitchen corner and a wood burner, downstairs 2 bedrooms with double beds, wc and shower. The stairs to the bedrooms are outside.
One bedroom has a 160x200 bed, the other a 140x200 bed. its also possible to make 4 separate beds.
"Casa Roca" costs 325,-€ a week. mid june till mid september € 425,- a week.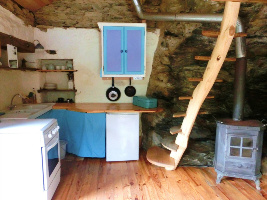 B&B or Chambre d'hôtes in a room in "El Capillo"
These are two de-luxe rooms with their own shower and wc in the house "El Capillo" which we rent out as B&B. Both have their own terrace with a view over the valley, two single beds or a double bed. These 2 or 3 persons rooms with breakfast can be rented for minimum two days and cost 75€ a night. (3 persons 85€) Bedlinnen and towels are provided.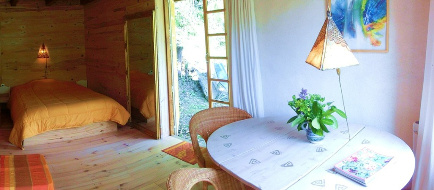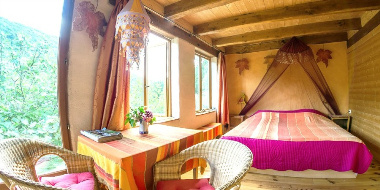 For the cabin, gite and chalet please bring your own bedlinnen, towels and kitchen towels.

Arrival on Saturdays from 4 o'clock onwards
Departure on Saturdays before 11 o'clock,
Unless otherwise agreed.