A Romantic Holiday Home in nature in the South of France
Stay in a cosy cottage, artistic gite or romantic chalet;
an idyllic holiday home in a valley by a river and waterfalls.
Independent, unique, ecological, colorful, cabins in the middle of nature.
Swim in our "river-swimmingpool " with waterfalls, walk through mountains and valleys.
Inspiration, creativity, land-art, painting, gelli printing and other artistic mediums.


Romantisch natuurhuisje in Zuid Frankrijk

Idyllisch 2 pers. vakantie huisje in een vallei aan een rivier met watervallen.
Logeren in een artistieke gite, kunstzinnig huis of romantisch chaletje.
Vrijstaande natuurhuisjes, kleurrijk, gezellig en knus, midden in de natuur,
kleinschalig, ecologies en net even anders.
Zwemmen in ons"rivier zwembad' met watervallen, wandelen door bergen en valleien.
Inspiratie, creativiteit, land-art, natuurkunst, expressief schilderen, gelli printing.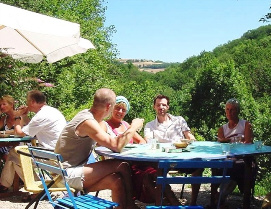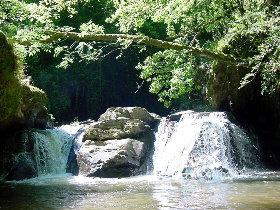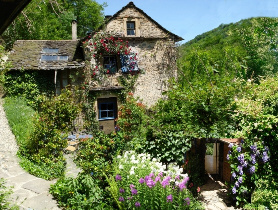 Rent a holiday home, cottage, gite, B&B, or romantic chalet.
Our valley begins at the end of a little winding road. There are quaint details and a variety of scenic landscapes differing heights that make this into a wonderful holiday place. One can enjoy swimming, hiking, or be inspired to paint, write, or make art.
The stream, which flows over rocks gives the valley a fairytale atmosphere. The large, flat stones among the shallow swimmingpools give ample opportunity for sunbathing.
Romantic cottages and cosy cabins for two are spread independently throughout the valley, connected by small paths, in idyllic spots in the middle of nature. These romantic, colorful cabins are equipped with a shower and toilet, kitchenette, a double bed, and a private terrace with reclining chairs. The cabins have been built being as ecological as possible.


We rent our holiday home, the gite and chalets in the months: April, May, June, July, September and October.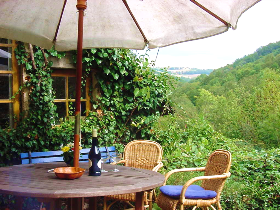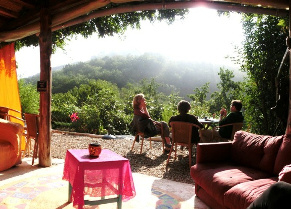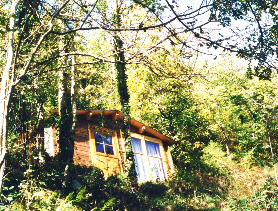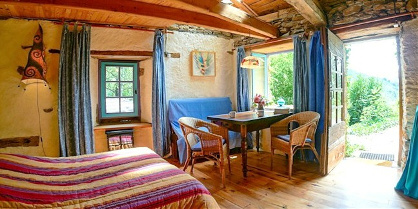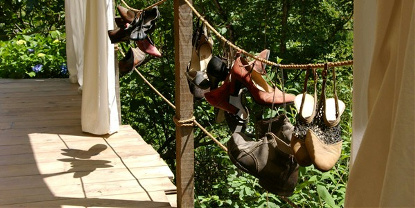 Tango, land-art, creative development and expressive painting
In July and August we organise tango weeks for those who already have a basic knowledge of the Argentine tango, See our Tango Website Page
In July and October we organise weeks for gelli printing, land-art, art brut, or expressive painting and mixed media.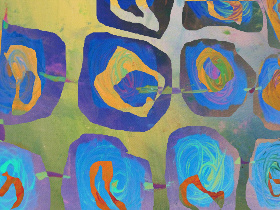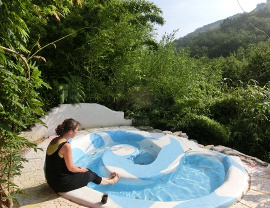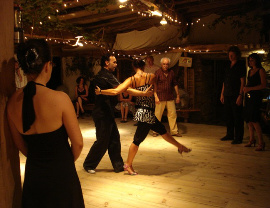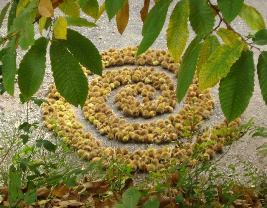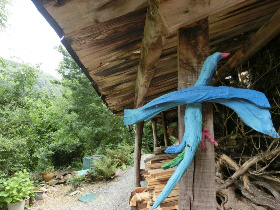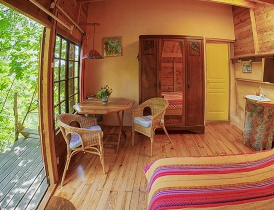 The Aveyron between the Pyrenees and the Auvergne in the South of France

The Valley of Dreams is situated in the valley of the river Tarn (Vallée du Tarn), in the natural reserve "Parc Regional des Grands Causses" of the Aveyron department in the South of France. This region between Auvergne and the Pyrenees, east of the Cevennes, is relatively intact. The varied landscape with its tree filled hills, clear streams, picturesque villages and hiking trails is an ideal place to relax, swim, cycle, canoe, and take infinite walks.